Our mobile platform offers plug and play components that can be combined as needed. Built around a high performance rich data messaging system it offers hooks in and out to other systems making integration with third party services quick and simple. It provides the flexibility of a custom built solution with the cost of off-the-shelf.
Fluxweave offers three ways to engage (1) do it yourself using our well documented flexible no code platform and integrations (2) our world class project team to will do it for you as a cost effective service integrating with your existing users, data and services or (3) we work together to build a fully custom client using our platform with our existing libraries give you a huge head start.

What makes our mobile platform unique?
Mobile applications tend to all hit the same notes: users, data streams, communication and security. We have created a platform that packs all these features in and made them highly configurable – turn on what you want and ignore what you don't.
Communication
Chat and rich data messaging are core parts of our platform
Calendar
Scheduling, calendar and logistics ensures everything happens on time.
Data and integrations
A rich framework to let users track themselves or visualize data from your systems.
Scripted experiences
Programs and content management provide a way to tailor deliver content.
All plans include 24 / 7 service monitoring and support. We are your round the clock engineering and operations team.
Build your custom mobile app
Businesses or organizations that need a mobile app to launch a new endeavor, move an existing offering onto mobile or streamline an internal process can quickly launch a modern custom mobile app. The Fluxweave Platform makes deploying fast and easy without the cost of an in house engineering team and without a large up front investment.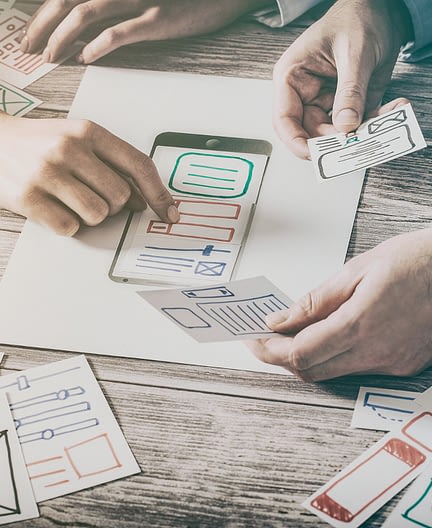 How it works
Your vision
How can mobile help you connect with users or build your business? Start with a blank canvas.
Design
Using toolbox of functionality on our mobile platform we'll craft a solution tailored for your problem.
Beta
We get to work and in hours or days have a prototype for you to try out.
Launch
Once you are happy with the prototype, we move it to production. Your app, ready for the world.
We support Fluxweave branded, turn-key white label or custom development solutions based on our platform and library of functionality. Focus on what makes your app unique and let us handle the rest.
Build vs Buy
The costs of creating and maintaining an end to end mobile solution can quickly add up well beyond initial estimates for creating an app.
Building a custom solution from scratch requires hiring a design team to create the user experience, mobile app developers to build the app, server developers to create the infrastructure and an infrastructure team to deploy and manage. The team needs to worry about keeping the app up to date, adapting to new versions of the mobile operating systems and ensuring the infrastructure can handle the scale as the user base grows.
This cost magnifies when factoring in different mobile platforms, connecting to third party services and enabling common but complex features such as chat and payments.
Low and no code solutions can help with these costs but they still require a team to design, configure and manage the solution. These solutions also can introduce limits on the features that can be offered or the integrations that are possible.
The Fluxweave solution has been designed as a comprehensive mobile platform that enables no code configurations, low code white label and custom code using quick start libraries and our flexible platform.
Using Fluxweave you can achieve a build result for the cost of buy.