The Fluxweave Mobile platform comes with features that are production ready and available from app launch. We will work with you to select the components that fit for your specific application needs and configure them for launch.
If you have unique feature needs we can collaborate on new modules or enhance existing modules.
Chat messaging and communication
Provide secure chat messaging for your users and offer channels that are available to everyone or just specific users.
| | |
| --- | --- |
| Direct messaging | Secure one to one messaging between your users. |
| Group chat | Users can create and join group channels. |
| Organization chat | Create all user, selected users or one way channels managed by your organization. |
| Managed chat | Offer support or training through user to many channels that are auto provisioned for users. |
| Scripted chat | Script chat bots so communicate with users. |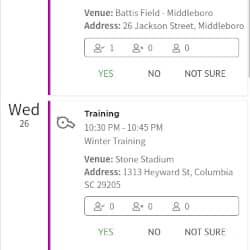 Calendar
Calendar management for events, schedules and coordination.
| | |
| --- | --- |
| Full calendar support | Manage schedules from our web admin, import from existing calendars or upload Excel spreadsheets. It's easy to create calendars for orgs, groups or specific users. |
| Configurable forms | Calendar events can be fully customized and contain locations that show maps with links to native apps in mobile, notes and any other type of information. |
| iCal | Provide iCal links to the entire schedule or particular types of events allow users to quickly and anonymously add to their own Outlook or Google. |
| Google Calendar integration | Connect to an existing Google calendar to populate the schedule. |
| Resource scheduling | Allocate resources and let users sign up and create events. |
| Reminders and changes | Automatically and flexibly send reminders to events and updates when information changes. Changes wills show right in the app. |
| Participant management | Manage participants to provide granular calendars for users. |
| In app live video | Create and attend live video sessions for one to one or up to 250 users as a group. |
Private social networks
Create communities within your own mobile app.
| | |
| --- | --- |
| Social feeds | Build social feeds that let users create and post content, follow users, bookmark posts and feel part of a community. |
| Activity sharing | Share activity through social feeds. |
| Comments, bookmarking, liking | Standard social features supported and the ability to add custom interactions. Configurable push notifications help keep users engaged. |
| Flexible security | Make messages private or available only to specific groups of people. |
| File hosting | Support for all different types of media including images and video with automatic conversion to support different platforms and support for documents. |
| Wiki | Shared wiki that can be read only for users or editable. Use for sharing and delivering resources and other content. |
| Layouts | Layouts provide the ability to create custom views quickly and simply. |
Data management
Flexible forms make it easy to capture and display data while import, automation and integrations make it easy to work with other systems.
| | |
| --- | --- |
| Forms | On the fly configurable forms with very with a flexible rule system for choosing what to capture and display, template and rich text support. |
| Activity tracking | Let users track and share their activity through forms or integration. |
| Charting | Chart data for users, coaches or trainers, or internal admin use. |
| Reports | Create web and PDF based reports. |
| Import and export | Flexibly import and export data. |
Programs
Create and manage events, classes or other types of group activities with programs.
| | |
| --- | --- |
| Program membership | Support for creating and running different types of programs that can be focused on behavior, group activities or seasons. |
| Cohort management | Separate users into cohorts, each cohort with one or more leaders. Use chat or social streams to connect the cohort together. |
| Content delivery | Schedule delivery of content to an in-app user inbox or via a content viewer built into the app. |
| Dashboards | Quickly see the health of a program. |
| Activity tracking | Track the activity and accomplishments of users participating. |
Automation and integrations
Simple to automate and extend.
| | |
| --- | --- |
| Scheduling | Behavior can be scheduled or triggered through life cycle events in the system. |
| Scripting | Scripting system using Lua provides a serverless style interaction with the system. This allows custom behavior and logic to be easily added. |
| APIs | GraphQL APIs provide the ability to interaction with parts of the system. |
| Integrations | The platform supports webhooks and calling REST APIs from the scripting system. Quick integrations are available for specific systems with more being added constantly. |
Security and administration
Full control over security.
| | |
| --- | --- |
| Group based security | Arrange users into security groups and control each groups access to each other and other system objects. |
| Organizations | Segment entire user groups into their own configuration with separate data and administrative access. |
| Entity ACLs | Create all user, selected users or one way channels managed by your organization. |
| Audit logs | Comprehensive audit logging for change tracking. |
| SMS one time password | Use SMS to security authenticate users. |